How to add or invite a new member
You can invite members to your Meetsy group in many ways. If you are using Slack to invite new members, check out our
Slack Integration article
for those instructions.
Adding a new user as an Admin
If you are an Admin/Owner, you can add a new user (or multiple users) in the following ways:
1. Navigate to your group's Admin menu, then select Members and then select the Invite Members button.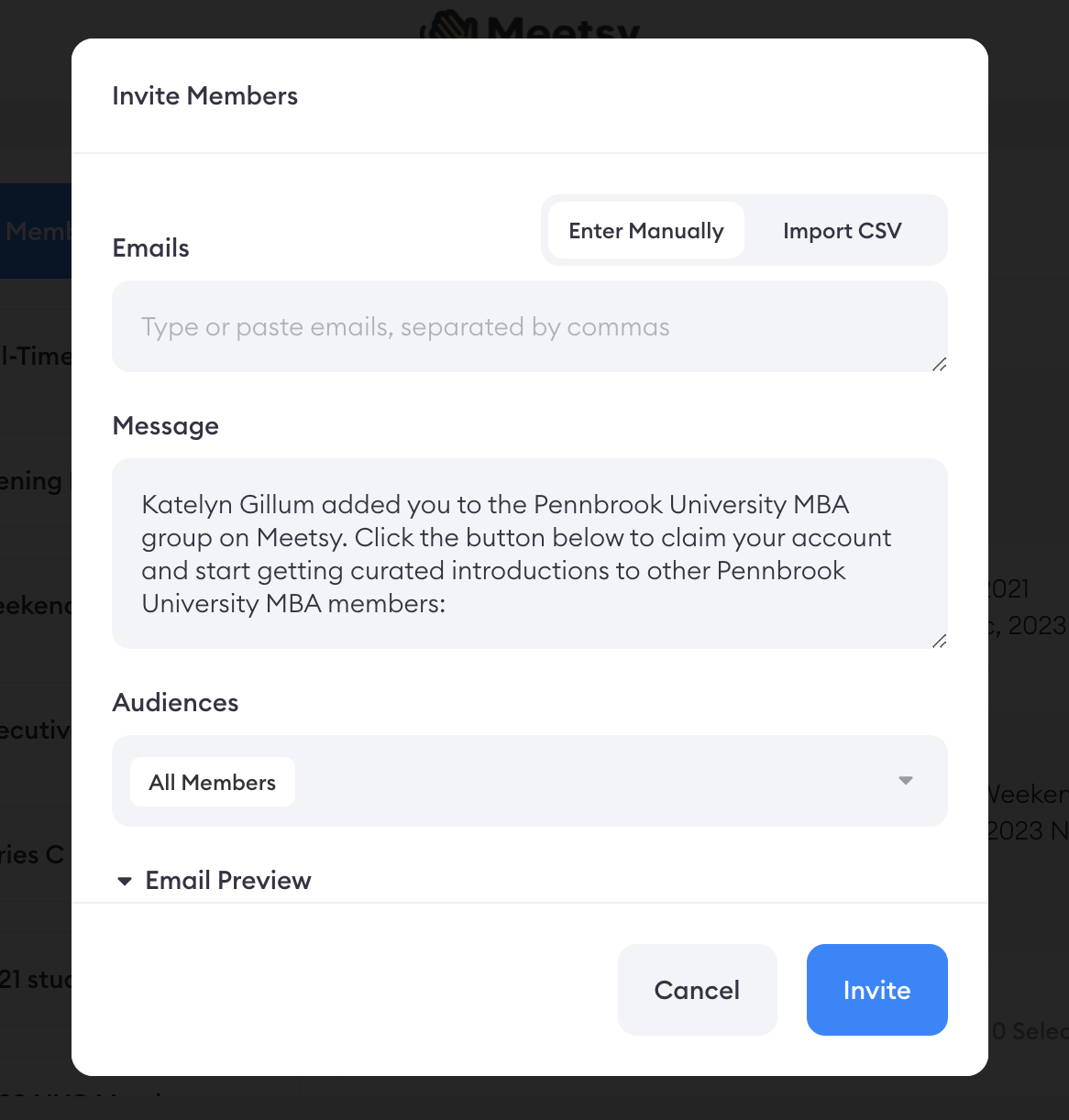 2. Once there, you can manually enter an email address, or you can import a list of email addresses from a CSV by selecting Import CSV'
3. Before selecting Invite, you can choose which Audience(s) you'd like to have invited members added into and you can preview the message you'd like to send with the invitation.
4. Once you select Invite, you're all set!
You can also achieve the same results outlined above by navigating to Settings → Invite.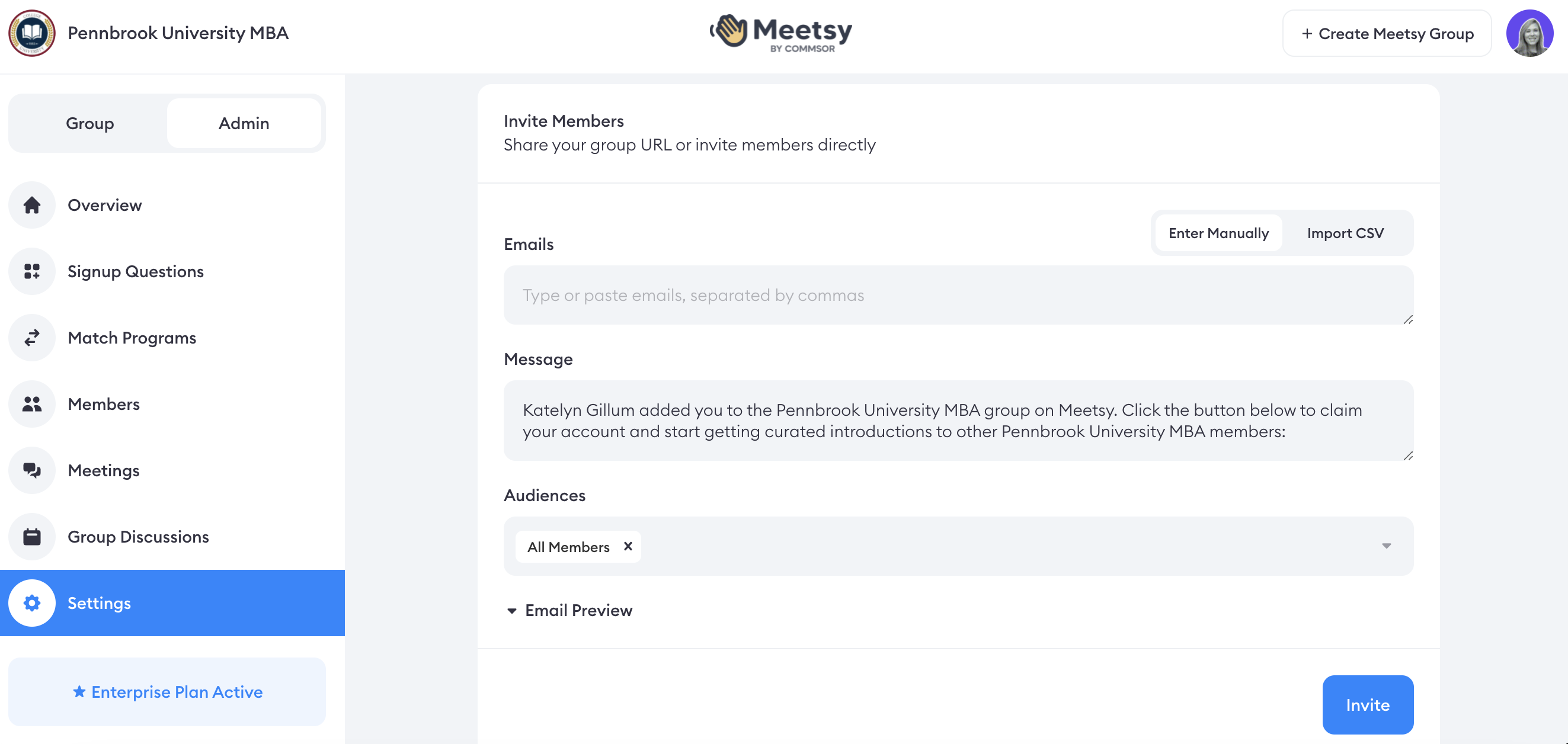 Adding a new Admin as an Owner, who is not yet a member of your group
If you are listed as an Owner in Meetsy, you can also add additional Admins to your Meetsy account by going to your Admin menu, viewing your Settings, and then selecting the Admins tab.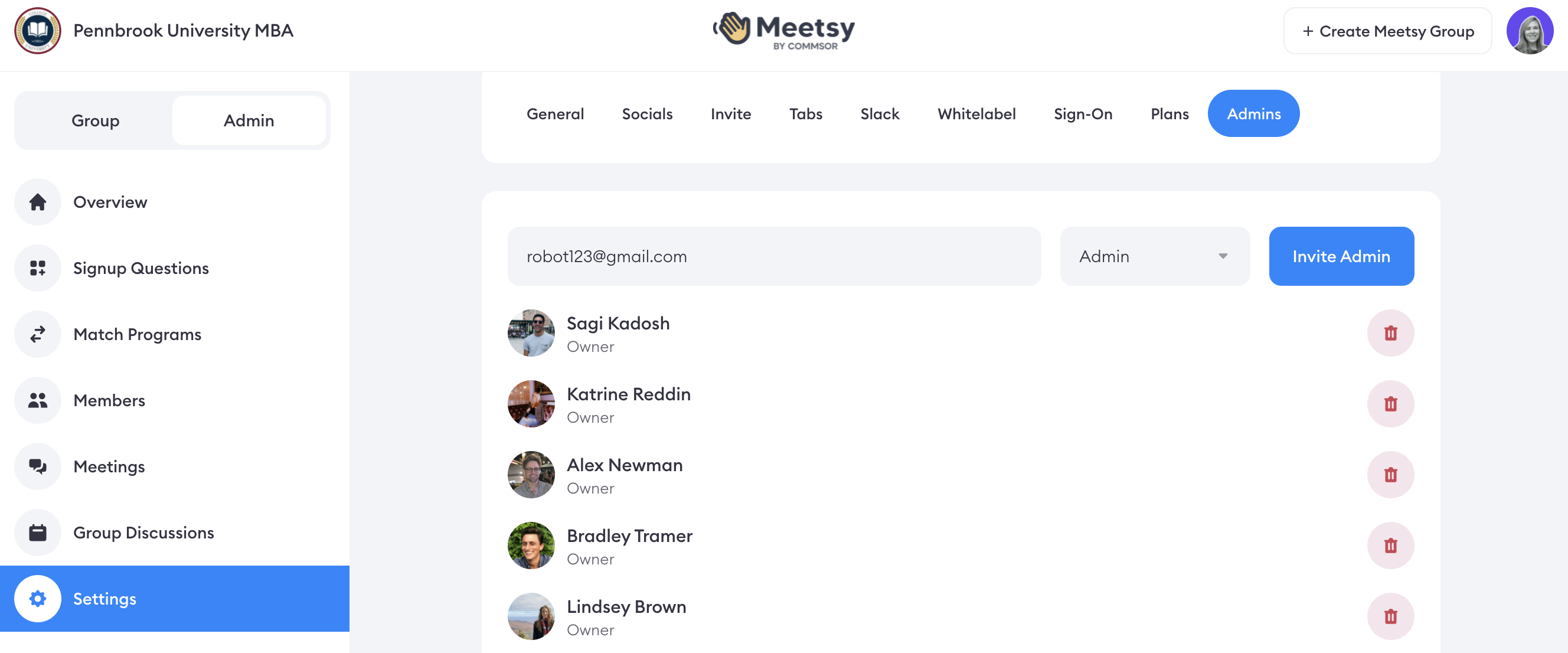 Once there, enter the email address of the Admin you'd like to invite and select the specific privileges you'd like that person to have in their Meetsy account.
Select Invite Admin and you're all set!
Inviting a new user as a group member
To invite someone as a Meetsy group member, go to the Overview page of your Meetsy account and select the Invite button.
Select Copy Invite Link.
From there, paste the link in an email, text, etc. to invite others to your Meetsy group!
Inviting new members manually:
Select the Admin tab on the left sidebar
Select Users
Select Invite Members on the right side of the screen
Choose Enter Manually
Enter the emails, separated by commas
Edit the message you'd like the invitees to receive
If you'd like, you can specify which audience you'd like the invitees to be a part of in addition to the All Members list.
Use the dropdown menu to preview the email. The email will include your Meetsy account logo and a link to join your Meetsy group.
Select Invite.
While admins have these tools to add or invite members, your members can only invite new members by sharing the group's invite link.
Your new members will appear in the Pending filter of your Users tab.